Janesville Tool Arbor Presses Make Kydex Applications Easy
Setting Rivets & Eyelets in Kydex Holsters & Sheaths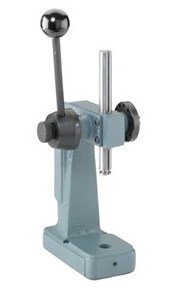 Kydex is a line of thermoplastic acrylic-polyvinyl chloride used for aircraft bulkheads, firearm holsters, sheaths, knives, and more. If you're working with Kydex, you're probably fastening pieces together with eyelets and rivets. The rigidity and formability of Kydex make it great for this highly-customizable work, but a great deal of time and skill is needed for professional results. A Janesville Tool Arbor Press is a huge time saver for manufacturing Kydex products.
Find a Press For Your Kydex Production Operation:
Characteristics of Kydex include:
High durability
Better retention than injection-molded parts
Waterproof
Scratch and crack resistant
If you're working on a budget, you've probably considered a mallet or even a bench vise for riveting Kydex. Under perfect conditions with a lot of practice, your results will be semi-professional at best. If you're using a hammer and you don't swing hard enough, your rivets will be loose. Hammer too hard and you just damaged the finished side of the rivet. If you're using a bench vise, you're at high risk of ruining your project or damaging your equipment.
After the initial investment, a manual arbor press saves you time and money while delivering superior results. Little pressure is required for consistently neat rivet, eyelet and snap flaring on Kydex materials. No messy glue, no tired muscles and no damaged equipment are required to properly roll fasten Kydex rivets for your knife sheath, firearm holster and more.
Shop precision arbor presses:
Kydex is great for:
Knife Sheaths
Firearm Holsters
Truck Fenders
Motor Covers
Safety Helmets
Air Exhaust Systems
Kydex is easy to form with an arbor press
Whether you create Kydex holsters and sheaths as a hobby or run a business, an arbor press from Janesville Tool creates a high-quality finish every time. Our experts can customize any arbor press to match your needs. Explore our entire range of die cutting sets and components that can be used for Kydex manufacturing.
Uses for manual & pneumatic arbor presses include:
Frequently Asked Questions On Kydex Applications For Arbor Presses
Can you rivet Kydex?
Yes, setting rivets and eyelets in Kydex is easy and straightforward with an arbor press. Whether you're new to working with Kydex or a seasoned tradesman, having a specialized arbor press for the job ensures consistent final results.
What tonnage is required to press a rivet into Kydex?
Most Kydex rivet pressing jobs can be handled with a 1-ton arbor press. Contact us if you are unsure whether a greater tonnage might be needed in your case.
Shop all our manual arbor press machines available for custom manufacturing today.