Comparison: the main differences between pneumatic, hydraulic and hydropneumatic presses
Presses are used for countless tasks in everything from small shops to big, defense industry and telecom shops. The two most common types are hydraulic and pneumatic, but a hybrid of these two—the hydro pneumatic press—is becoming more common. Begs the comparison: what's the difference between these different types of power?
Pneumatic press – best for precision, high speed and durability
Pneumatic presses are used when a hand-operated manual press doesn't produce enough force, or when the volume of work at hand is beyond the capabilities of manually operated presses.
Pneumatic presses are operated by gas or air that is pressurized. Air is forced into a cylinder, and when pressure is applied the press moves downward. After the press has completed the task at hand, the air is released through valves and springs move the pump back up inside the cylinder.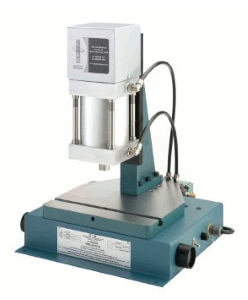 Advantages of pneumatic presses
Pneumatic presses are easy-to-use, low-maintenance, and very durable. They're also fast—much faster than hydraulic presses, and they can be halted at any time if necessary. Pneumatic presses are known for their dependability, largely because the dry, moisture-free air used in them doesn't create problems for internal parts. Because they're less complicated than hydraulic presses, the cost of producing them is less than hydraulic press.
Disadvantages of pneumatic presses
The only real drawback to pneumatic presses is that they can't be used for jobs requiring high pressures. As technology evolves, it's likely pneumatic presses capable of heavier work will be developed.
Common uses: Assembly, punching, stamping, shearing, staking of metals and plastics, die setting, embossing
This is our specialty. Shop 100% made in the USA pneumatic press machines manufactured in-house at Janesville Tool & Manufacturing.
Hydraulic press – best for big power & tougher materials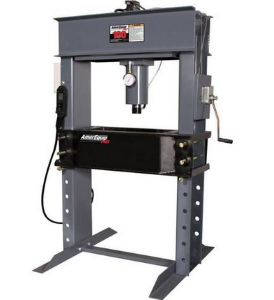 While pneumatic presses use air or gas, hydraulic presses use a liquid that moves under pressure. A piston pushes down inside an oil-filled chamber, and this puts pressure on a baseplate (or another piston) that gets pressed downward.
Advantages of hydraulic presses
Hydraulic presses are capable of many tasks and are known for being dependable. They're preferred over pneumatic presses for jobs involving tougher materials and when the work involves a lot of repetitive pressing.
Disadvantages of hydraulic presses
The biggest difference between hydraulic presses and pneumatic presses is that hydraulic presses are slower than pneumatic presses. This can be an advantage on some work, however. Of more concern is the not insignificant amount of maintenance required with hydraulic presses. They also require the use of devices to monitor oil pressure and efficiency.
Common uses: Assembly, punching, stamping, shearing, die setting, embossing, crushing and forming metals
Hydro pneumatic press – a big power alternative to hydraulic presses
The hydro pneumatic press combines hydraulic oil and compressed air to perform a wide range of industrial tasks such as forming, riveting, bending, punching, etc. They offer the advantages of low-cost, efficient pneumatic devices along with the greater forces of hydraulic presses while also allowing greater control over force and speed.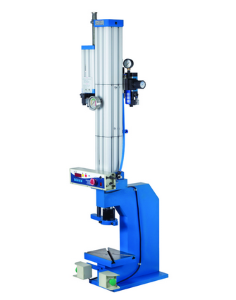 Advantages of hydro pneumatic presses
Because hydro pneumatic presses don't require hydraulic components or expensive hydraulic oil, they are both less expensive and more reliable. The use of compressed air enables a quicker approach and retraction, as well. Maintenance is easy due to the use of simple sealing components and their pneumatic components.
Hydro pneumatic presses are also lightweight, compact, and do not require a hydraulic power pack—making them very space efficient. Additionally, they are considerably more efficient than hydraulic or pneumatic presses, requiring up to 50% less energy than fully hydraulic and pneumatic presses.
Disadvantages of hydro pneumatic presses
Hydropneumatic presses make efficient pneumatic air power a reality in much higher force capacities beyond 2 tons. Because it's newer tech and the long-term benefits outweigh its competition the up-front cost is steeper. And they can't match traditional pneumatic air presses in terms of precision.
Common uses: Assembly, punching, stamping, shearing, die setting, embossing and forming metals and plastics
For precision assembly work you're best off with an A+ quality pneumatic press
Janesville Tool & Mfg automatic air presses are ideal for light high repetition assembly and can't be beat for price/workability for precision operation. If you're looking for big power and lower reps you're better off looking for a hydraulic shop press or a new hydro pneumatic press machine. For lower volume precision assembly work you might get by with a manual shop press - check out all of our arbor press machines to see all of your options.
If you're looking to a precision press for assembly you've come to the right place. Please contact us for more info or take a look at our online inventory of pneumatic presses.