Die Sets for Bending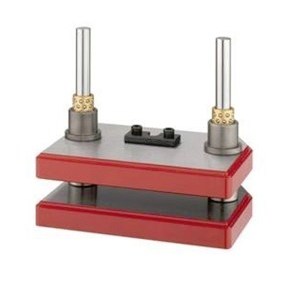 Die sets >>>> Bending Die Sets
Die Sets Customized for Bending Application
Whether you're an at-home jeweler looking to shape thin metals, an industrial shop needing consistent straightening of metal bars, or anything in between, we have the custom die for your job. Our 100% American-manufactured steel die sets are the strongest in the industry and the best to support your bending application.
Get a custom die set for your arbor press ASAP, 24-hour shipping is available when you shop Janesville Tool & Manufacturing arbor presses.
Shop Arbor Press Die Sets:
Outfit Your Workbench with our Wide Selection of Die Sets
Our die sets come standard with hardened pins and long-wear bushings with optional lengths to fit your job. From high-density A36 steel for larger projects to 300 series stainless steel for precision assembly, Janesville Tool offers a wide range of press die sets optimized for you, check out our array of press die components as well.
Our dies are specialized for a variety of press applications:
Manufacturers have trusted the quality of our punch press die sets since the 1950's. Contact us now for steel die sets with impressive longevity.
Shop all die sets for arbor presses available for custom manufacturing or purchase online from Janesville Tool & Manufacturing.