Hole Punching Dies for Arbor Presses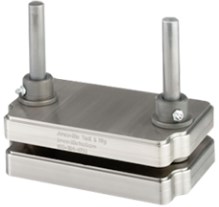 Die Sets >>>> Arbor Press Die Sets
Janesville Tool Builds Custom Dies for Punching Press Applications
Arbor Presses are the perfect tool for any punching job where slow, steady pressure needs to be applied to a work piece. We offer custom die sets tailor-made for your applications to get you the most accurate and consistent punches possible. All of our arbor presses and die sets are manufactured right here in America to give you the strongest, most durable build. If you want a die set that will give you perfect performance for a lifetime, look no further than Janesville Tool.
Shop Arbor Press Die Sets:
Optimize Your Workbench with Our Wide Selection of Die Sets
Janesville Tooling & Manufacturing has been an industry leader since the 1950's. Tell us exactly what you need and what you're producing and we will build a custom die set just for your application. Contact us today for more information on arbor presses, dies, and more accessories.
Our die sets are customized for a range of applications:
Shop all die sets for arbor presses available for custom manufacturing or purchase from Janesville Tool & Manufacturing.