Value Added Services
JT&M, Inc. - Your Value Added Supplier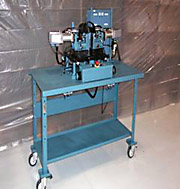 Four air presses with force monitoring to insert grommets into customers part. System includes PLC to allow for verification of grommet insertion.
"Your Design or Our Design From Concept to Completion, Let JT&M Be Your Value Added Supplier!"
Due to an increasing demand from our customers, JT&M, Inc. is offering "Value Added Services" to better meet your needs for "One Stop Shopping" and "Turn Key Systems".
Whether it's a simple tapped hole in the end of a ram on one of our presses, or as complex as a complete die set or press assembly system, JT&M Inc. has equipment set up and ready for quick turnaround utilizing the latest software, most common tooling, and fixturing available in manufacturing today.
Value Added Services
Turnkey operations
Engineering department
Craftsmanship
For forty five (45) years Janesville Tool and Manufacturing's skilled team of employees have been creating precision assembly systems and production equipment from our stock product line, for some of the largest companies worldwide, including aerospace, defense, medical, electronic, and telecommunications.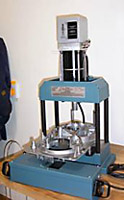 Four post press tooled to insert a bushing for a customers application.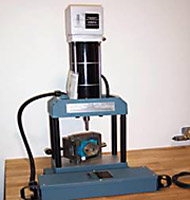 Standard air press tooled with a customers fixture for a customer application.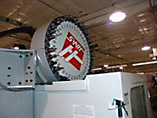 HAAS machining center setup with complete common tooling & fixturing to turn your project around as soon as possible.
We work directly with you to implement your application utilizing our stock products. Our engineering department will strive to identify the best process and design for your project and achieve your desired results.
Our shop is equipped with the latest equipment and fixturing that allows us to process your order fast and efficiently.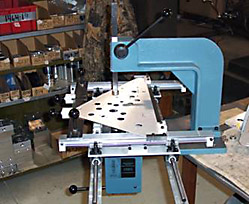 Manual press tooled up for customers application to insert bearings. Press is equipped with an "X" "Y" table and a toggle press head for backup. Customer is able to insert bearing at multiple locations.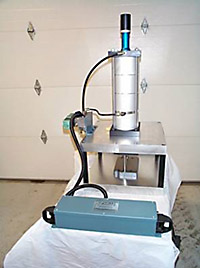 Four post custom air press made to accomodate a greater working area than our standard stock units.
If you are in need of machining on JT&M products, let Janesville Tool & Manufacturing quote your next project. In many cases we can turn your order around within 24 hours. Let us be your one stop solution and provide you with equipment that is ready for immediate production use.

Turn key air press with load cell for force monitoring and heat platens for a seal application.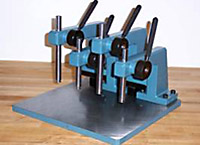 Four manual presses mounted on a special base per customers design.
Modified Presses and Die Sets
We do have 38 models of stock presses and 24 stock die sets available for 24 hour delivery, but if you need one of our presses or die sets modified from our stock selection, JT&M can design or work with your engineering team to achieve your desired results with a fast turnaround time.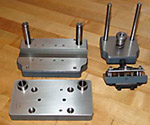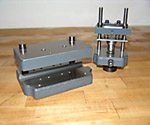 Standard JT&M Die Sets machined per our customers' specifications.JT&M has tooling setup for every stock Die Set for fast accurate turnaround.
To receive a quote on all your machining needs, please contact our sales department at 608-314-1620, fax 608-314-1625 or contact us via our online form.