Janesville Tool & Manufacturing Builds Custom Forming Dies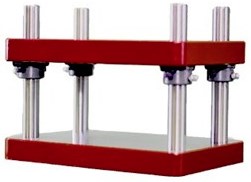 A forming die from Janesville Tool & Manufacturing will expand what your manufacturing floor can create, increasing revenue. Die forming is a common type of forming that can be easily done by an arbor press with a forming die. Janesville Tool & Manufacturing dies are 100% made in the USA, because of this most of our dies get to the manufacturing floor within 24 hours, where they belong, making you money.
Dies Built However You Need
Janesville Tool stocks an abundance of punch press die sets for precision assembly projects. In 50+ years in the die set industry, we've accumulated an array of sets for manufacturers, but, as always, we will work with your engineers to modify die sets if needed; longer pins and alternate pin positions are available on request. Our steel die sets are precision surface ground for tolerance. Choose stainless steel sets for harsh environments prone to corrosion. We even specialize in power die sets and flange stock for press mounting.
Shop all die sets for arbor presses available for custom manufacturing or purchase online from Janesville Tool & Manufacturing.