Custom Dies for Forming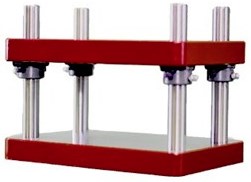 Die sets >>>> Arbor Press Die Sets
Janesville Tooling Designs Forming Dies
Our levels of press force capacity and die sets give manufacturers a huge rangeof options for different metal forming applications. All of our die sets are 100% manufactured in America.
Get a die set for your custom arbor press ASAP. 24-hour shipping is available when you shop Janesville Tool & Manufacturing arbor presses.
Shop Arbor Press Die Sets:
Customize Your Workbench with Our Wide Selection of Die Sets
Manufacturers have trusted the quality of our forming dies since the 1950's. Janesville Tool offers a wide range of punch die sets optimized for your application. Choose your bushing type, pin length, steel style, and many other options to give you the die set you need.
We have specialized dies built for all kinds of applications including:
Shop all die sets available for custom manufacturing or purchase online from Janesville Tool & Manufacturing.