Compare Products
No products added. Please add products to compare.
JT&M - Force Monitoring w/ Load Cell 2,000 lb Capacity for Pneumatic Presses - Model #FM-100-2K
Need something more specific?
Description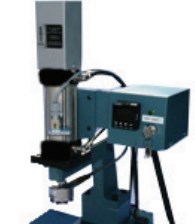 Force Monitoring
Force monitoring assures quality by monitoring force during the pressing process, up to 2,000 lbs. Available on all pneumatic presses this option allows the user a "Good Window" indicator for the pressing cycle. The system utilizes a load cell with a digital readout and prox switch for end of stroke reading. If the pressing cycle is not within the "Good Window" parameters the press is locked out, indicating a bad pressing cycle, and a keyed reset is used to return the press cylinder.