Compare Products
No products added. Please add products to compare.
4P8X8 Four Post Die Set
Select Product Accessories
People Also Search For

In Stock


Print


In Stock
Additional Product Information
4P8X8 steel 4 post die sets are precision surface ground and come equipped with hardened ground bushings, allowing for close tolerance fit. A-36 Steel with hardened pins for extended wear.
Shop all die sets for press tools available for sale online from Janesville Tool & Manufacturing.
| | | | | | | | | | | | | | | | | |
| --- | --- | --- | --- | --- | --- | --- | --- | --- | --- | --- | --- | --- | --- | --- | --- | --- |
| Part # | A | B | C | D | E | F | G | H | J | K | L | M | N | P | PD | PL |
| 4P6X6 | 7.3750 | 4.88 | 3.7500 | - | 8.19 | - | 3.6250 | 6.08 | 6.63 | 9.00 | 1.00 | 1.00 | 2.88 | 6.00 | .7500 | 6.75 |
| 4P8X8 | 9.3750 | 6.88 | 5.7500 | - | 10.19 | - | 5.6250 | 8.08 | 8.63 | 11.00 | 1.00 | 1.00 | 4.88 | 8.00 | .7500 | 6.75 |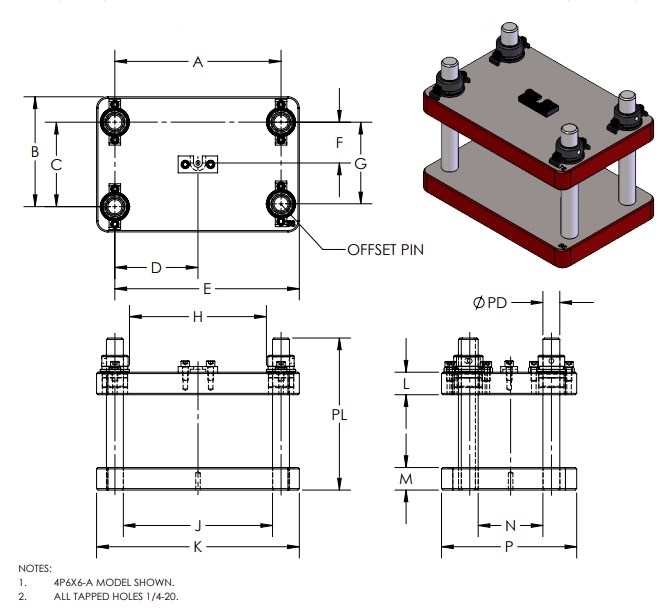 Description
Features:
• A-36 Steel
• Hardened Pins For Long Wear
• Hardened Bushings For Close Fits
• Precision Ground Surfaces
• Longer Pins (available upon request)
• Arranged For Assembly - Add Suffix (-A)
Janesville Tool die sets are available for customization: