Arbor press for plastic: a precision tool for any material
Once looked down upon, plastic has secured its place as a modern manufacturing material. With its relatively lighter weight than metal and the ability to have wildly different properties, plastics are everywhere and showing no sign of leaving. An arbor press from Janesville Tool & Manufacturing will give you the edge your business needs to stay ahead.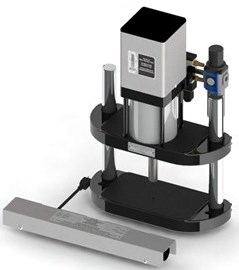 Every JT & M Arbor pneumatic press is equipped with three-inch stroke and adjustable down stop anti-rotate mechanisms. Standard solenoid valves provide built-in adjustable flow control. You can also have an arbor press customized to your specifications.
Shop all arbor presses and find the "build custom CAD models to your specs" button to use the tool.
All JT&M pneumatic presses feature:
Nonmetallic bearings to reduce friction for lube-free operation
Dual hand anti-tie down/anti-repeat controls
Alternate stroke lengths available on request
Standard anti-repeat controls
Modifications available for any specifications
User-proven reliability for over 50 years
*Product specifications and pricing subject to change without notice.
Custom arbor presses from Janesville Tool are commonly used for: