Janesville Tool & Manufacturing arbor presses are built for assembly
At some point in your manufacturing process you will need an arbor press to combine parts, bend a raw material, stamp a hole using a die, or punch out a blank form. Janesville Tool & Mfg. has the knowledge and flexibility to create the perfect arbor press for your assembly line.
Find the Right Press for Your Assembly Application:
CONTACT us to build your press
Every JT&M arbor pneumatic press is equipped with three-inch stroke and adjustable down stop anti-rotate mechanisms. Standard solenoid valves provide built-in adjustable flow control.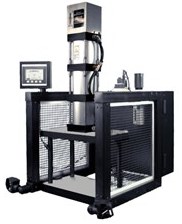 All JT&M pneumatic assembly presses feature:
Nonmetallic bearings to reduce friction for lube-free operation
Dual hand anti-tie down/anti-repeat controls
Alternate stroke lengths available on request
Standard anti-repeat controls
Modifications available for any specifications
User-proven reliability for over 50 years
*Product specifications and pricing subject to change without notice.
Let's build a custom press for your application
Don't settle for a cookie-cutter stock press. JT&M makes it easy to have one designed specifically for your application. Our engineers will work with you to design a custom press. Use our online CAD modeling program to input your specs and options, and we'll get you a quote.