Custom Arbor Presses & Dies for Riveting
Arbor press >> Arbor press for rivets
Set rivets smoothly with a quality manual arbor press from Janesville Tool & Manufacturing
Using a hammer to set eyelets and rivets is not only tedious, it's also inaccurate. An arbor press, with a few modifications, makes setting rivets, eyelets and snaps considerably easier.
Find Arbor Presses for Your Rivet Setting Application:
CONTACT us to build your press
The video below (not by us) shows how to modify an arbor press for making snaps and rivets. With a manual arbor press, you'll not only save time on snaps and rivets, you'll also spare yourself a lot of frustration.
Whether you're installing grommets on heavy canvas sailcloth, putting snaps on leather, or riveting denim, a customized manual arbor press will speed up your production and give you consistently excellent results. It can also save you money by not having your materials ruined by a poorly executed rivet. With presses ranging from 1/8 ton to 4-ton, there's one for any size job.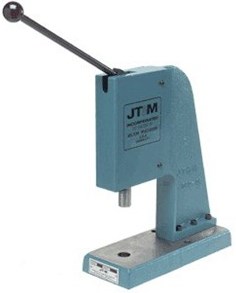 Shop precision arbor presses:
Let us build the perfect press for your application
All Janesville Tool benchtop presses are manufactured in our Janesville, WI facility and can be customized to your specific needs. Our engineering team will work with you to develop a press that works for you. With manufacturer-direct pricing and 24-hour shipping, there's no reason to settle for anything less.
Don't risk your finished product being ruined by trying to do it by hand or with a homemade vice press that gives you inconsistent pressure and results. A Janesville Tool manual press will give you consistently perfect rivets, snaps and grommets.
Common manual & pneumatic arbor press uses include: