Arbor presses for cutting with dies: Available at Janesville Tool & Manufacturing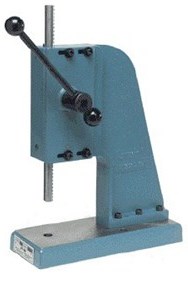 Janesville Tool & Manufacturing builds pneumatic and manual arbor presses which can be easily adapted for cutting sheet metal and leather with dies. Our manual arbor presses are more than capable of cutting most thin gauge metals and thin leather stock. For heavier work, our pneumatic presses are the way to go.
Find a Press that Fits Your Die-Cutting Application:
The investment in an arbor press pays for itself. Bashing your dies with a hammer causes distortion, a shorter lifespan for the die, and shallow impressions. A manual or pneumatic arbor press requires no heavy lifting, decreases work time and produces professional results.
Unlike most of the arbor presses available through your local distributor or box store, Janesville Tool & Manufacturing presses are made entirely in the US at the same Janesville factory where we've been making presses for over 50 years. With our manufacturer-direct pricing and 24-hour shipping, there's no reason to settle for anything less.

Let's customize a press for your application
Why settle for a stock press when you can have one designed specifically for your cutting application? Janesville Tool & Manufacturing offers a customization program on all our presses. Our engineers will get your input, then design a custom press to your specifications. Start with our online CAD modeling program to input your specs and options, then we'll get you a quote.
Shop our arbor presses:
Arbor presses have many uses, including: