Arbor Punch Presses: pneumatic & hand operated press machines for custom punching applications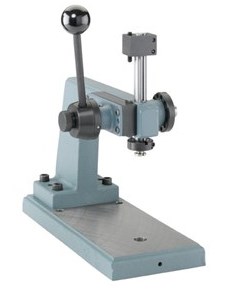 Punch presses changes the size of shape of material by forcing the material into a forming die. Punch presses can be operated manually or be integrated into a CNC machine for manufacturing larger components. Janesville Tool & Manufacturing manufactures superior quality punch presses for cutting, forming and shaping tasks. All our pneumatic punch presses and press parts are made entirely in-house at our manufacturing facility in Janesville, Wisconsin. Our presses are widely used throughout the US aerospace, defense, telecom and medical industries. With custom fabrication options, manufacturer direct pricing and 24-hour shipping, there's no reason to settle for anything less than the best.
Choosing a punch press
When choosing a press, first identify the processing methods, work methods and press functions that suit your application best. Choosing the wrong type of press will negatively affect your manufacturing capability and efficiency. Factors to consider when purchasing a punch press include the type of frame, power source, force rating, tooling capacity, programming, safety features and speed of production.
Find Presses for Your Punching Application:
USA-made punch press machines
For over 50 years, Janesville Tool & Manufacturing has been building both pneumatic and hand lever presses to exacting standards. Our adjustable arbor presses (A Series) are ideal for tool design, small parts assembly, staking, shearing, and punching light gauge material. Our Economy Series (E Series) pneumatic presses have a streamlined benchtop design for reduced cost, while still providing JT&M quality.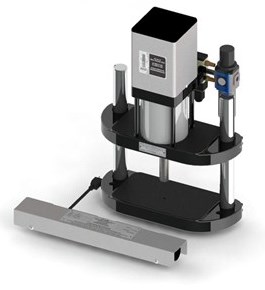 As part of our value-added services, we also offer the option of customized presses for specialty manufacturing. Our engineering team will work with you to identify the best design for your needs. With our equipment, software, and experience in developing precision solutions for a wide range of industries, we can design and build any type of press you need.
Build your own custom punch press.
Every JT & M punch press is equipped with a three-inch stroke and adjustable down stop anti-rotate mechanisms. Standard solenoid valves provide built-in adjustable flow control.
Shop all arbor presses and find the "build custom CAD models to your specs" button to use the tool.
All JT & M pneumatic presses feature:
Nonmetallic bearings to reduce friction for lube-free operation
Alternate stroke lengths available on request
Standard anti-repeat controls
Modifications available for any specifications
*Product specifications and pricing are subject to change without notice.
Common manual & pneumatic arbor press applications include:
What is a punch press used for?
Punch presses are used to alter the size or shape of a piece of material. Done by applying pressure to a die, the construction of the die determines the final shape produced.
Can you punch stainless steel?
While you can punch stainless steel, doing so repeatedly requires durable punches engineered to resist breakdown from the abrasion and high shear strength of stainless steel. Contact us for more information on the appropriate press parts required for your case.
How many tons does it take to punch 1/4 steel?
To punch a 1/4 diameter hole through 1/4 thick steel, 6.25 tons of punching force are required.