Arbor Presses for Metal Forming: Available at Janesville Tool & Manufacturing
Janesville Tool & Manufacturing builds pneumatic and manual arbor presses which can be used for a wide range of metal forming. For crimping, punching holes, or shaping thin gauge metals, our manual arbor presses are a handy addition to any shop. For heavier work, such as straightening or bending metal bars and shafts, our pneumatic & manual presses are the way to go.
Find A Press For Your Forging Application:
Unlike most of the presses you see at your local distributor, all Janesville Tool & Manufacturing presses are made entirely in the US at the same Janesville factory where we've been making presses for over 50 years. With our manufacturer-direct pricing and 24-hour shipping, there's no reason to settle for anything less.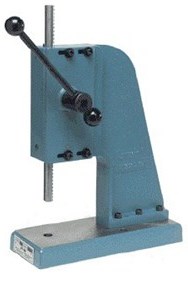 Let's build a custom press for your application
There's no need to settle for a cookie-cutter stock press. Not when you can have one designed specifically for your application. Our engineers will work with you to design and build a custom press. Use our online CAD modeling program to input your specs and options, and we'll get you a quote.
Shop our arbor presses:
Common uses for manual & pneumatic arbor presses include: