Light Duty Arbor Press - low force arbor presses for precision assembly
Squeeze, bend, punch, flatten, press—Janesville Tool has an arbor press for every light-duty application
An arbor press can be useful for a wide range of light-duty press work, particularly with die sets, as well as light bending. If you are working with small pieces of metal, an arbor press can be fitted with dies and used for flattening, bending and shaping during the forging process.
Find Presses for Light Duty Applications:
CONTACT us to build your press
Whether you're leatherworking in the garage or need to add a press to the shop, a manual arbor press from Janesville Tool and Manufacturing is an excellent addition. Unlike the majority of presses available through distributors, ours are made entirely in the USA—in the same Janesville facility where we've been making presses for over 50 years. Like everything we make, these presses are built to last a lifetime.
With manual presses ranging from 1/8 ton to 4-ton, stroke lengths from 1" to 14.75", and an array of arbor press attachments for a wide range of applications, Janesville Tool & Manufacturing has a press for virtually any light-duty metalworking application.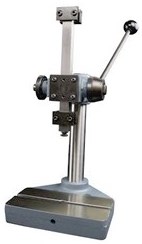 Shop our light-duty arbor presses:
We'll build the perfect press for your application
There's no need to settle for a stock press that isn't quite right for your application. All Janesville Tool benchtop presses can be customizedfor your specific needs. Our engineers will work with you to build a press that works for you. Our manufacturer-direct pricing makes it affordable, and our 24-hour shipping makes it fast.
Common uses for Janesville Tool arbor presses include: