Precision metal stamping machines - small industrial hand arbor presses for custom production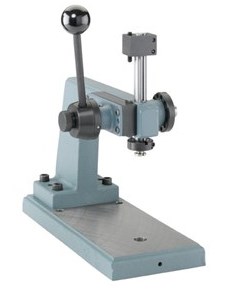 Our unique and highly versatile precision pneumatic air presses can be mounted in any position to meet the needs of your specific metal stamping application, even upside down. Adjustable pressure and extensive customization options mean you get exactly what you need out of your pneumatic arbor press from Janesville Tool.
Find Presses for Metal Stamping Applications:
Our pneumatic & manual hand presses are built to last a lifetime, and their air tubes can last up to 5 years or more before needing a replacement. Maintenance is minimal, so production is rarely disrupted. For short run production or prototyping, they're ideal.

Primary metal stamping applications
Many industries require metal stamping as part of their production process. If you're stamping steel, brass, aluminum or even nonmetallic materials, you can increase your productivity and accuracy with a Janesville Tool & Manufacturing pneumatic press. Our presses are widely used for their many industrial applications, including:
Our presses range from basic models to highly customized versions. With force capacities ranging from .05 or less to 2 ton and up, we have a precision press for every application and type of metal.
Don't struggle with cheap presses that constantly break. Investing in a quality press now will save you time and avoid repair costs down the road. Janesville Tool offers the highest quality presses on the market and they're all 100% made in America.