Industrial arbor press machines for custom short run production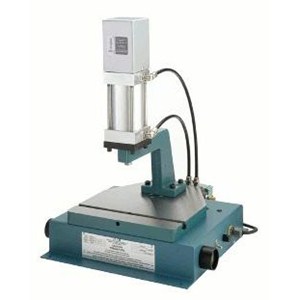 Adding a 100% made in America pneumatic air press to your production allows for higher speed and accuracy at a lower total cost, while reducing the effort required by the operator.
Pneumatic presses are ideal for high volume production and come in a variety of sizes. Choosing the appropriate size press for your industry will usually depend on the type of material being marked.
What Are Your Press Requirements?
How to choose an industrial-grade arbor press
Choosing the appropriate size shop press for your industry will usually depend on the type of material being marked. You'll need to evaluate which press model, control box and marking dies best suit your specific application. Janesville Tool offers a variety of pneumatic presses with accompanying control boxes, as well as a wide range of press die sets and components.
Each of our manual hand presses are operated with a control lever, but we also offer pneumatic arbor metal presses.
Because of their unique configuration, our pneumatic presses can even be placed upside down to meet the needs of any industrial environment.
For the most consistent production quality, a Janesville Tool pneumatic press is your best option.
Common uses for manual & pneumatic arbor presses include:
Applications for precision arbor presses:
Agricultural Machinery
Amusement Machines
Automobile Manufacturers
Aerospace
Coal Mining Equipment
Concrete Pumping
Die-Casters
Printers
Textile Manufacturers
Many industries choose pneumatic presses for their versatility and ease of use. With few moving parts and no fluid, these presses require only minimal maintenance. The air tubes in our pneumatic presses can easily last more than five years before they need to be replaced.
Customized arbor presses for any industry
Our compressed air-powered presses offer speed and precision other presses can't compete with. We also offer the flexibility of presses with custom features to match your specific needs. If you don't find exactly what you're looking for, we can modify any of our designs to do exactly what you need it to do.