Janesville Tool & Manufacturing designs and builds pneumatic presses for punching metal and other materials
Pneumatic presses >> Pneumatic Punching Press
Pneumatic presses for Punching Applications
Pneumatic presses are ideal for a wide range of production tasks requiring a high degree of precision. These presses have notable advantages over hydraulic presses. Because they apply uniform pressure, you get a clean punch. They also operate much faster, and take up less space than hydraulic punches (approximately 40% less floor space).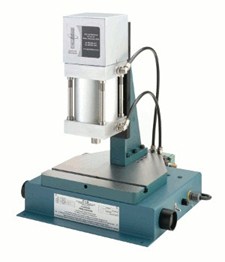 All pneumatic presses you see on our website are made entirely by Janesville Tool & Manufacturing in our Janesville, Wisconsin facility using US-sourced steel. What's more, we can customize a pneumatic press to your specific needs.
Shop precision pneumatic presses:
Custom-Built Pneumatic Presses
Whether you're punching circuit boards or sheet metal, a customized press from Janesville Tool & Manufacturing may be just the tool you need. Our engineers will work with you to create the ideal press for your specific tasks. If you are building a custom press for industrial/assembly applications, we include a FREE application test to ensure your press will meet all your requirements.
We also design and manufacture die sets for all types of punching and pressing work. If you do not see the die set you need, let us know. We can also custom manufacture die sets for your any application.
Custom Pneumatic Press Order Form
Why Janesville Tool & Manufacturing?
2019 marked the 60th year Janesville Tool & Manufacturing has been designing and building high-quality tools. Unlike other US companies, we don't outsource anything to foreign countries. Everything is still built in Janesville, Wisconsin, as it was when our founder George Gilman started the company.
With deep customization options, manufacturer-direct pricing and 24-hour shipping on most tools and parts we have in stock, there's no reason to settle for anything less than a quality-built pneumatic press from Janesville Tool & Manufacturing.
Contact Janesville Tool Manufacturing for a quote on a custom-built pneumatic press.