Compare Products
No products added. Please add products to compare.
A-1019 1/8 Ton Deep Throat Precision Pneumatic Arbor Press
Select Product Accessories

In Stock

Print

In Stock
Additional Product Information
One of two options in the A-1000 pneumatic press series.
| | | |
| --- | --- | --- |
| | A-1019 | A-1066 |
| Force capacity | 0.125 tons | 0.25 tons |
| Force at 60 psi | 114 lbs | 396 lbs |
| Force at 80 psi | 152 lbs | 528 lbs |
| Force at 100 psi | 190 lbs | 660 lbs |
| Cylinder diameter | 1.75" | 3.00" |
| Throat depth | 6.04" | 6.04" |
| Base length | 8.22" | 8.22" |
| Base width | 12" | 12" |
| Height | 23.56" | 23.54" |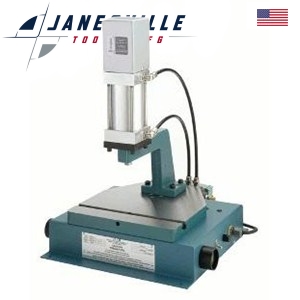 Quick Overview
The A-1019 1/8 ton pneumatic arbor press is ideal for precision assembly work, staking, shearing, and for punching light gauge metal or plastic. It utilizes the same cast ductile iron frame as our popular DT-500 1/4 ton manual arbor press. This press consists of a ground cast base and a separate column. The clearance under the column can be increased by adding a riser block between the base and the column on special request.
The A-1019 1/8 pneumatic air press comes equipped with dual hand anti-tie-down/anti-repeat controls and a three-inch stroke length, T-Slot Table, as well as an adjustable down stop/anti-rotate mechanism.
Description
You can configure each model individually by selecting the base model plus any additional attachments. If you need to purchase more than one of the same attachment, please go to the Options tab to the right.
*Pneumatic presses usually ship in 1 to 2 business days.
*Product specifications and pricing subject to change without notice.
*Includes adjustable down stop/anti-rotate mechanism.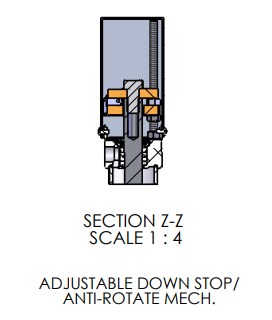 Press dimensions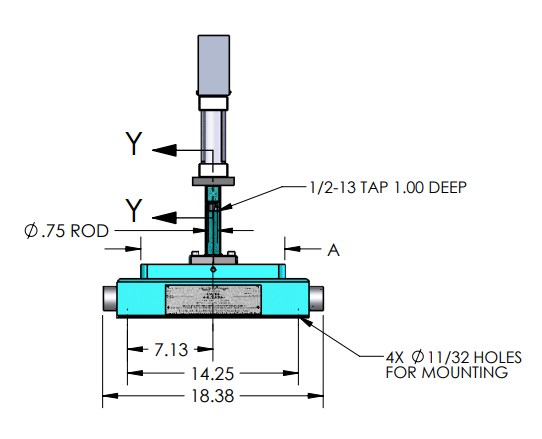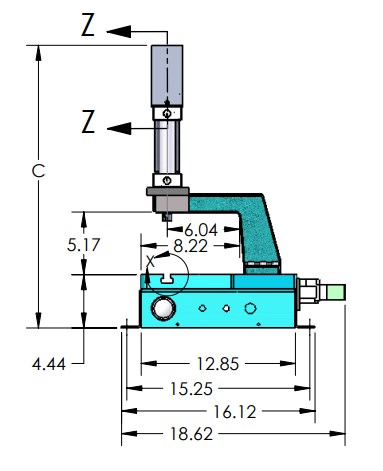 Features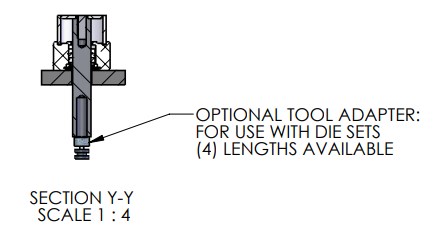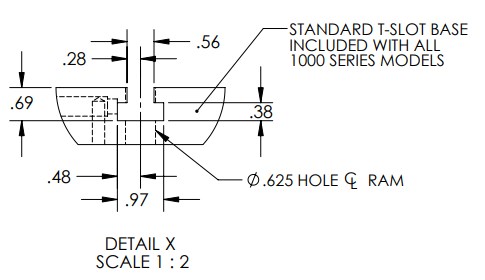 Maintenance Guidelines
Thanks to its unique design, this press requires virtually no maintenance. Clean, dry air is required for operation. (Lubricated air may be used, but must be used for the life of the press.)
Control Module
The life expectancy for the control module (#540) is ten million cycles. Replacing the module on a yearly basis will ensure production reliability and avoid costly downtime.
Flow Controls
To alter the ram descent speed on this JT&M Press, adjust the screw marked B Located on the valve at the rear of the press. To alter the ram ascent speed, adjust screw A. (The ram retraction speed has been preset by the factory.) Rotate the screws clockwise to decrease the speed of the ram.
Press Operation
To operate the press, push palm buttons in at the same time. Hold the palm buttons in until the downstroke is completed. Consult the service manual for complete safety instructions.
Shop all pneumatic arbor presses available for sale from Janesville Tool & Manufacturing.
Options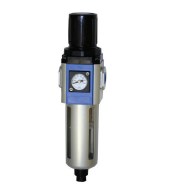 Air Filter/Regulators
Recommended for the A-1019 pneumatic arbor press to remove moisture and to allow the user accurate air supply pressure.
Model 512 air filter/regulator
Used for the A-1019. Comes standard with 1/4" N.P.T ports.
ADD TO YOUR ORDER ABOVE UNDER "OPTIONAL ACCESSORIES" OR CONTACT US FOR MORE DETAILS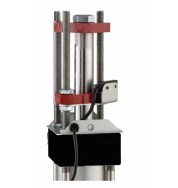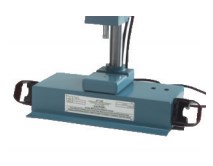 Dual Photo Optic Palm Buttons
Buttons are ergonomically designed to eliminate hand, wrist, and arm stress associated with repeated switch operation and require no physical pressure to operate the A-1019 press.
Model -OT dual palm buttons
ADD TO YOUR ORDER ABOVE UNDER "OPTIONAL ACCESSORIES" OR CONTACT US FOR MORE DETAILS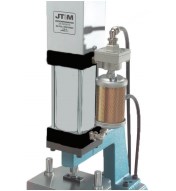 Quick Exhaust Valve
The valve allows exhaust air to be exhausted at the cylinder rather than the flow controls on the valve to speed up press cycle. The valve is recommended for use on the up stroke only.
Model 523 exhaust valve
ADD TO YOUR ORDER ABOVE UNDER "OPTIONAL ACCESSORIES" OR CONTACT US FOR MORE DETAILS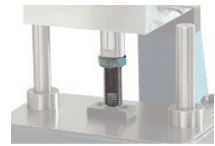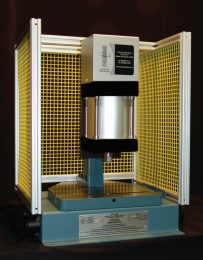 Air Press Guarding
Cost-effective guarding is available for the A-1019 arbor press. The rigidity of the wire mesh, aluminum inter-locking frame, and quality construction will prevent any intrusion during press operation.
Model G-0123L 3-sided press guard
Note—Point of operation safety guarding or devices is the responsibility of the employer (user) of the machine as provided in ANSI B-11:1 as published by the American National Standards Institute.
ADD TO YOUR ORDER ABOVE UNDER "OPTIONAL ACCESSORIES" OR CONTACT US FOR MORE DETAILS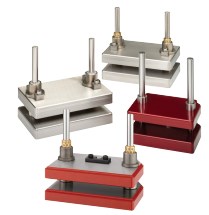 Die Sets
A economical lean way to cut the high costs of purchasing multiple presses to perform different applications. By tooling up several die sets, one press can be used to achieve multiple assemblies. A wide range of Die Sets are ready for 24 hour delivery after receipt of your order. Special machining and custom applications are available, along with several options for all your necessary die set needs. All JT&M Inc. die sets come standard with hardened pins and bushings for long wear.
A36 Steel Die Sets
A36 Steel Die Set with Ball Bushings
Flanged Stock Two Post Die Sets
Power Die Sets
Clean Room Die Sets
Custom Die Sets
All Die Sets can be arranged for assembly with your JT&M Inc. A-1019 pneumatic arbor press at a minimal cost.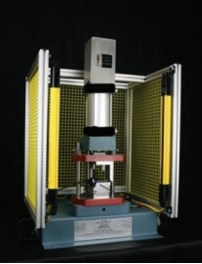 Light Curtain
The Light Curtain option for JT&M Inc. pneumatic presses comes standard with three sided guarding and a 15" light curtain. If the light curtain is broken during operation, the pressing operation is stopped. This helps ensure complete operator and coworker safety.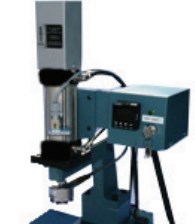 Force Monitoring
Force monitoring assures quality by monitoring force during the pressing process. Available on all pneumatic presses this option allows the user a "Good Window" indicator for the pressing cycle. The system utilizes a load cell with a digital read out and prox switch for end of stroke reading. If the pressing cycle is not within the "Good Window" parameters the press is locked out, indicating a bad pressing cycle, and a keyed reset is used to return the press cylinder.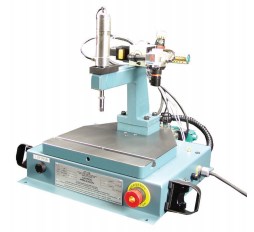 Value Added Services
Your design or our design, from concept to completion, let JT&M Inc. be your value added supplier.
Due to an increasing demand from our customers, JT&M, Inc. is offering "Value Added Services" to better meet your needs for "One Stop Shopping" and "Turn Key Systems".
Whether it's a simple tapped hole in the end of a ram on one of our presses, or as complex as a complete die set or press assembly system, JT&M Inc. has equipment set up and ready for a quick turnaround utilizing the latest software, most common tooling, and fixturing available in manufacturing today.
Value added services
Add-ons: