Compare Products
No products added. Please add products to compare.
P-6019 1/8 Ton Deep Throat Precision Pneumatic Press
Select Product Accessories
People Also Search For

In Stock


Print


In Stock
Additional Product Information
*Stage Force w/1.75" inch diameter cylinder at:*
| | |
| --- | --- |
| | P-6019 |
| Force capacity | 1/8 tons |
| Force at 60 psi | 114 lbs |
| Force at 80 psi | 152 lbs |
| Force at 100 psi | 190 lbs |
| Cyl. STG. | 1 |
| Throat depth | 13.6" |
| Base length | 19.5" |
| Base width | 14.25" |
| Height | 21.7" |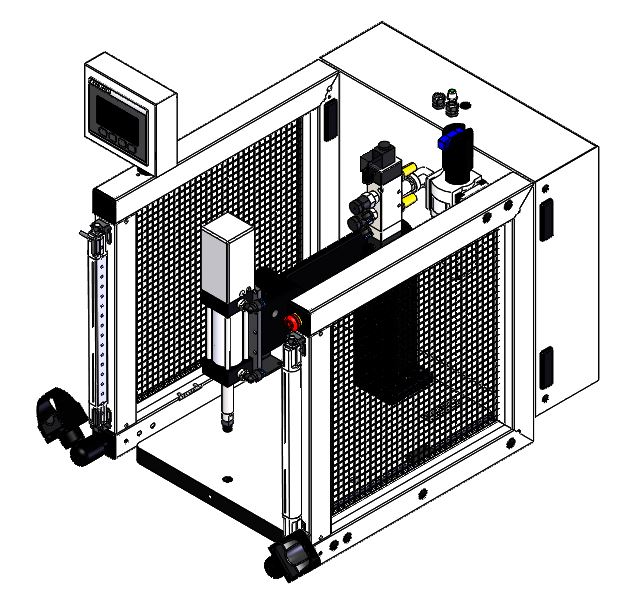 The P-6019 1/8 ton pneumatic arbor press is ideal for circuit board assembly work as well as precision assembly work, staking, shearing, and for punching of light guage metal or plastic. This precision assembly press consists of a steel base and separate ductile iron column. The clearance under the column can be increased by adding a riser block between the steel base and the column flange on special request. The P-6019 1/8 ton press comes equipped with dual hand anti-tie down/anti-repeat controls, 3" inch stroke length, and an adjustable down stop/anti rotate mechanism.
The P-6019 Comes Standard With:
Adjustable Opto-Touch Buttons
Three-Sided Guarding
Timer Kit
Cycle/Parts Counter
Air Filter and Regulator
PLC Controls With 4" Color Display
Anti-Repeat - Anti-Tie Down Controls
Check out all 1/8th ton arbor presses from Janesville Tool
Description
You can configure each model individually by selecting the base model plus any additional attachments. If you need to purchase more than one of the same attachment, please go to the Attachment tab to the right.
*Product specifications and pricing subject to change without notice.
*Includes adjustable down stop/anti-rotate mechanism.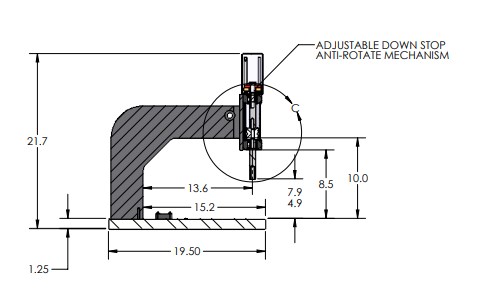 Press dimensions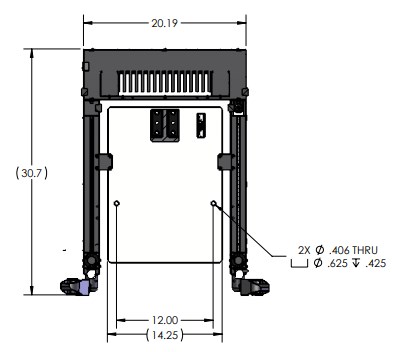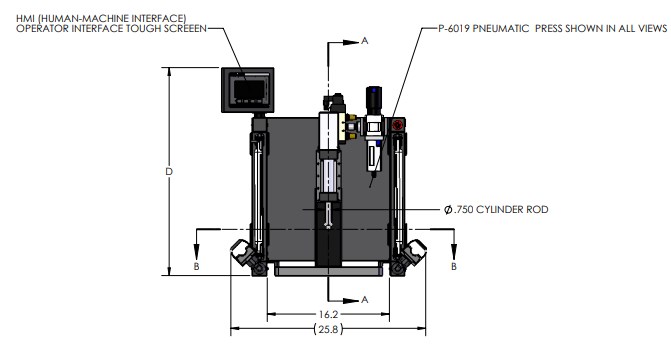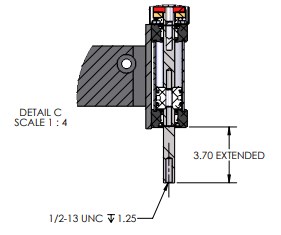 View a full, printable P-6019 Dimensional Drawing
Shop all pneumatic arbor presses available for sale from Janesville Tool & Manufacturing.
Options
Any of the following options can be purchased with these models.
Category Lists: