Janesville Tool & Manufacturing designs and builds pneumatic presses for industrial assembly use
Consistently Precise Press-Fit Assembly
There are probably millions of uses for pneumatic presses in all kinds of industries, particularly for assembling component parts. Pneumatic presses are well suited to this work due to having a relatively low maximum force that remains consistent throughout the entire stroke.
Compared to manual presses, pneumatic presses offer the benefits of higher speed (at a reasonable cost) and greatly reduced operator fatigue. Their one drawback is the lack of any "feel" during the assembly process, although control/monitoring devices can be added if this is a significant concern in your assembly operations.
The Right Tool for Your Job: Customized Pneumatic Presses from Janesville Tool & Manufacturing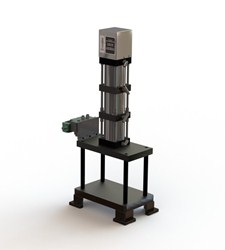 Janesville Tool & Manufacturing offers deep customization options on all our presses. If you have a specific need, such as some way to monitor the force being applied, let us know. Our engineers will work with you to design a press around your needs, and if you have us build a custom press for industrial/assembly applications we will include a FREE application test to ensure your press will meet all your requirements.
Custom Pneumatic Press Order Form
All pneumatic presses you see on our website are designed and built entirely by Janesville Tool & Manufacturing in our Janesville, Wisconsin facility using US-sourced steel--just as when our founder George Gilman started the company.
Shop All Pneumatic Presses
Why Janesville Tool & Manufacturing?
Since 1959, Janesville Tool & Manufacturing has been designing and building precision presses and tools for a wide range of industries. Today, our products are used throughout the US telecom, aerospace, defense and medical industries.
With deep customization options, manufacturer-direct pricing and 24-hour shipping on most in-stock tools and parts, there's no reason to settle for anything less than a quality-built pneumatic press from Janesville Tool & Manufacturing.
Contact Janesville Tool Manufacturing for a quote on a custom-built pneumatic press.