Janesville Tool & Manufacturing is your source for US-made pneumatic presses for stamping
Stamp, Brand and Emboss Metal, Leather, or Paper
Over the past 10 years, pneumatic presses have seen increasing acceptance for stamping applications. The cost is significantly less than conventional stamping equipment, and pneumatic presses take up far less space. Additionally, they are simpler and more cost-effective to maintain.
Janesville Tool & Manufacturing designs and builds pneumatic presses that see use for forming, drawing, trimming, blanking and piercing all types of metals with dies. They can be mounted in any position (even upside down), have adjustable pressure, and are built to last a lifetime.
All the pneumatic presses on our website are designed and built entirely by Janesville Tool & Manufacturing in our Janesville, Wisconsin facility using US-sourced steel. What's more, we can customize a pneumatic press to your specific needs.
Janesville Tool & Manufacturing offers deep customization of pneumatic presses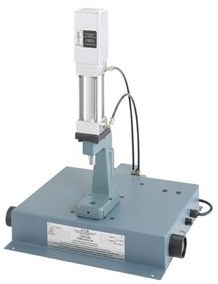 Don't see what you're looking for? Get in touch with us. Our engineering staff will work with you to custom-build a press around your specific needs—at a very competitive price. Even a custom-built pneumatic press from us will be far less costly than a conventional stamping machine. And we include a FREE application test with all custom presses to ensure your press will meet all your requirements.
Custom Pneumatic Press Order Form
Shop All Pneumatic Presses
Why Janesville Tool & Manufacturing?
In 2019, Janesville Tool & Manufacturing marked its 60th anniversary. Since 1959, we've been designing and building precision presses, dies and tools for everything from garage workshops to major manufacturers.
While other US companies routinely outsource production to foreign countries, we still make all our products in our Janesville, Wisconsin facility and we only use US-sourced steel. We're well known for the quality of our presses, which is why they are widely used in the US telecom, aerospace, defense and medical industries.
With deep customization options, manufacturer-direct pricing and 24-hour shipping on most in-stock tools and parts, there's no reason to settle for anything less than a quality-built pneumatic press from Janesville Tool & Manufacturing.