Janesville Tool Arbor Presses for Broaching
Manual arbor presses allow for efficient broaching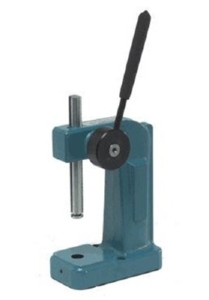 Arbor presses can be easily adapted for the broaching process. From automotive and firearm industries to locksmiths, Janesville Tool offers a wide range of manual arbor presses to meet all your broaching needs.
What Are Your Broaching Press Requirements?
The following industries use broaching:
Aerospace
Automotive
Firearms
Locks
Defense
Mining Equipment
Energy Production
Medical
Broaching is a machining process that uses a toothed tool (broach) to cut away material. Broaches resemble saws, though the height of the teeth increase over the length of the tool. This technique is used when precision is required, especially when making unique or odd shapes.
Shop precision arbor presses:
Linear and rotary broaching with arbor presses
The two main types of broaching are linear and rotary. Linear uses a basic broaching techniques. In rotary broaching, the broach is rotated to cut an axisymmetric shape.The shape of your finished product depends on the rise per tooth (RPT). The height determines the amount of material removed. Using a Janesville arbor press with a broach tool allows the cut to be performed in one pass of the broach.
Common applications for broaching include:
Circular Holes
Non-Circular Holes
Splines
Keyways
Flat Surfaces
Shop all manual arbor press machines for custom manufacturing available from Janesville Tool & Manufacturing.