Arbor Presses for Broaching Applications from Janesville Tool
Pneumatic and manual arbor presses manufactured by Janesville Tool can easily be adapted into broaching presses that can cleanly accomplish most broaching tasks. The best type of press will depend on the desired speed and ease of use. While manual presses will get the job done in most cases, pneumatic presses may be the best option to reduce fatigue on the operator and output steady, consistent amounts of force with each repetition.
Force capacity really isn't an issue either when using one of our presses as a broaching press. The smallest presses for both styles are capable of up to 1/8 tons while the largest manual and pneumatic presses are capable of up to 4 tons and 4 1/4 tons respectively, making them fully capable for most broaching applications. Need something with a little more force? Contact us and we'll work with you to design and build the optimal machine for all your broaching needs.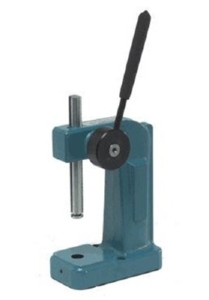 Find the Best Press For Your Broaching Needs:
The following industries use broaching:
Aerospace
Automotive
Firearms
Locks
Defense
Mining Equipment
Energy Production
Medical
Broaching is a machining process that uses a toothed tool (broach) to cut away material. Broaches resemble saws, though the height of the teeth increases over the length of the tool. This technique is used when precision is required, especially when making unique or odd shapes.
Shop precision arbor presses:
Linear and rotary broaching with arbor presses
The two main types of broaching are linear and rotary. Linear uses a basic broaching techniques. In rotary broaching, the broach is rotated to cut an axisymmetric shape.The shape of your finished product depends on the rise per tooth (RPT). The height determines the amount of material removed. Using a Janesville arbor press with a broach tool allows the cut to be performed in one pass of the broach.
Common applications for broaching include:
Circular Holes
Non-Circular Holes
Splines
Keyways
Flat Surfaces
Keyway broaching machines & tooling
Arbor presses are commonly used as broaching machines, especially when accurate keyways are needed. As long as you have a good keyway broach set, a Janesville Tool arbor press will give you speed and accuracy that is unmatched by nearly all other machines, even those that are built specifically for broaching. With little to no alterations required, the press will be able to push the broach along the guide and completely through the part. Keyway broaches feature multiple teeth that are able to remove much more material with each stroke than something like a keyseater machine. Depending on the desired depth, this will typically allow the press to cut a clean keyway in just 1-3 strokes. The inherent accuracy of a press from Janesville Tool combined with the fact that the broach is pushed along a guide will also provide a much tighter tolerance than possible with most other machines.
Not sure what kind or capacity of press you need? Don't worry about it - just contact the engineers at Janesville Tool. If you provide the application/use, they can help determine the best press for your needs. They are also able to design and build a fully customized press for you if a turn-key solution isn't available.
Common uses for custom arbor presses from Janesville Tool include:
Shop all manual arbor press machines for custom manufacturing available from Janesville Tool & Manufacturing.