Arbor Presses for Embossing
Create Quality Leather and Paper Embossed Products with Precision and Consistency Using a Press from Janesville Tool
A light duty press is right at home in a leatherworking or print shop. Precision presses from Janesville Tool create beautifully embossed leather or paper products consistently.
Find the Right Press for Your Embossing Project: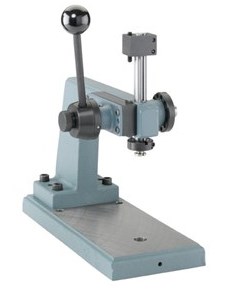 Presses from Janesville tool are great additions to any craftsman's workshop. Our arbor presses range from 1/8 ton to 4 ton, with stroke lengths from 1" to 14.75", which means you should have no problem finding the right press for your application.
Shop our manual arbor presses:
Customized presses for you to perfect your trade
Janesville Tool creates custom arbor presses built for your needs. Our engineers will work with craftsmen to build the perfect embossing press for your trade.
Common uses for custom arbor presses from Janesville Tool include: