Arbor Presses for Embossing
Get Precise & Consistent Embossing with an Arbor Press from Janesville Tool
Whether you're using a press to emboss leather, paper or metal, using inefficient or poorly made presses and dies can make the process much more time-consuming and tiring than it needs to be. Saving money upfront by going with a cheap embossing press and die set can seem appealing, but will almost never turn out well. After the increased cost of failed products, increased production times and varying product quality from inconsistent pressure, it will quickly end up costing you much more time and money than it ever could have saved you.
Embossing presses have to apply the same amount of pressure with no horizontal variation - this is especially true in a professional or business setting. Janesville Tool arbor presses are guaranteed to apply consistent pressure every time for decades to come and can be used for nearly any type of material. Our smallest standard manual and pneumatic presses can exert up to 1/8 tons (250 lbs) of force while the largest presses are capable of up to 4 tons (8,000 lbs) and 4 ¼ tons (8,500 lbs) of force respectively, making them fully capable for almost all embossing applications. Need something with a little more or less force? Contact us - we can work with you to design and build the optimal embossing machine for your needs.
Find the Right Press for Your Embossing Project: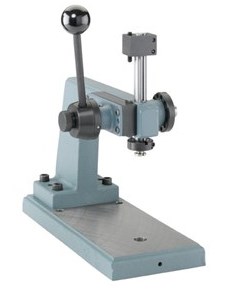 Presses from Janesville tool are great additions to any craftsman's workshop. Our arbor presses range from 1/8 ton to 4 ¼ ton, with stroke lengths from 1" to 14.75", which means you should have no problem finding the right press for your application.
Janesville Tool presses make efficient embossing machines for:
Leather
Paper
Aluminum
Sheet Metal
Stainless Steel
Metal Foil
Plastic
And much more!
Shop our manual arbor presses:
Customized presses to perfectly emboss your work
Give your customers consistently embossed products while decreasing production costs with an arbor press custom designed specifically for your embossing needs from Janesville Tool. If you already know all the details of the press you would like, send us your specs. Not sure what would be the best fit for your application? Don't worry about it. Contact us and our engineers will work alongside you to design and build a unique setup to best suit your needs.
Common uses for custom arbor presses from Janesville Tool include: