Arbor press machines for leather work: stamping, punching & embossing
Janesville Tool & Manufacturing offers a variety of manual hand presses for making leather goods
Whether you're a career leatherworker or make handmade DIY leather goods, a high-quality manual hand arbor press is a must. One arbor press machine becomes your embossing machine, snap setter, eyelet setter, and rivet setting machine all in one. If you're on a budget like a lot of leatherworkers are, this one machine will provide the benefits of countless other machines at no additional cost.
Adding a manual press to your custom leather stamping tools provides faster and more consistent results - meaning you'll easily be able to increase your production while lowering your working hours. Without a press, you're left to juggle a leatherworking hammer, piece of leather, base plate, tools - you need three hands, really. A manual arbor press from Janesville Tool frees up your hands, your time, and your wallet.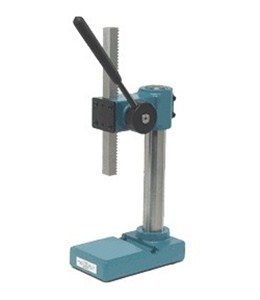 Each of our benchtop presses are 100% American made and can be customized for your specific needs. Our engineering team works with you to build the perfect press for your application and desired results.
Find the right Press for Your Leatherworking Application:
Shop precision arbor presses: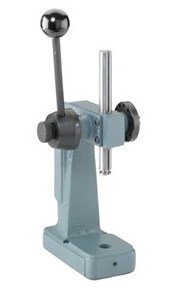 A Customized Press for Your Leather Business
With a manual arbor press, you can emboss a makers mark or stamp to a piece of leather simply, cheaply and with little power required. There's no need for hot stamping, brazing irons, or an embossing machine.
A magnet can hold metal cutting dies, setting tools, or other metal pieces to the ram for the easiest leatherworking process you've ever experienced. Two hands are finally enough!
Need to set snaps, rivets, and eyelets quickly? A customized manual hand press from Janesville Tool & Manufacturing makes that possible. We also offer die sets to easily customize any leather piece you want to make. Create uniform custom leather stamping with a manual arbor press.
No matter what leather masterpiece you're creating, a manual press will allow your operation to run more efficiently. Get the clean lines and precision you need to step up your leatherworking game within your budget.
Other common applications for custom arbor presses include:
Frequently Asked Arbor Press Machine Questions For Leatherworking
How does a leather arbor press work?
A leather arbor press embosses makers marks, stamps designs, and sets specialty items like snaps, rivets, and eyelets into leather. Since leatherwork doesn't require a large amount of force to complete each task, purchasing a 1 ton to even 1/2 ton arbor press should suffice.
How do you press letters in leather?
Using an arbor press for leatherwork makes the process of embossing a makers mark or stamping a cinch. Skip the hot stamping or brazing irons and pick up a customized arbor press from Janesville Tool. Get an arbor press setup to set snaps, rivets, and eyelets in your desired application.
Do you wet leather before stamping?
For best results, it's recommended to dampen the leather before stamping with an arbor press. A quick tip is to let the leather return to its natural color after dampening before beginning to stamp.