Compare Products
No products added. Please add products to compare.
AP-810-RR-FS 1/2 Ton Manual Full Stroke Adjustable Head Round Ram Press
Select Product Accessories
People Also Search For

In Stock


Print


In Stock
Additional Product Information
Quick Overview
One of many versions in the AP-810-RR manual press series.
| | |
| --- | --- |
| | AP-810-RR-FS |
| Force capacity | 1/2 ton |
| Max stroke length | 9.5" |
| Throat depth | 2.76" |
| Base length | 7.06" |
| Base width | 4.06" |
| Height | 11.49" |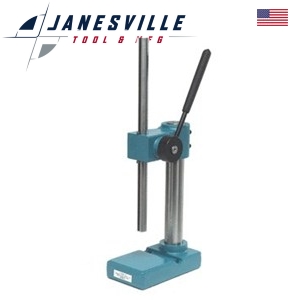 The AP-810-RR-FS 1/2 ton full stroke adjustable lever arbor press is rated to withstand 1000 lbs. of force. This precision assembly press is ideal for pressing, punching, small parts assembly, shearing, crimping and staking. The head of the press can be adjusted for height with (2) clamping screws. The press contains a 3/4" diameter keyed ram that is 14-3/4" long, which will enable the user a taller column for longer strokes.
Check out all 1/2 ton arbor presses from Janesville Tool
Description
You can configure each model individually by selecting the base model plus any additional attachments.
You may purchase the AP-810-RR 1/2 ton press base model with no full stroke attachment or choose from 2 other arrangements:
Shop all manual arbor press machines available for sale from Janesville Tool & Manufacturing.