Compare Products
No products added. Please add products to compare.
5/8" Ram, 1-3/4" Throat Depth, 1/2 ton Manual Arbor Press – ILP-500-FS
Select Product Accessories
People Also Search For

In Stock


Print


In Stock
Additional Product Information
One of several versions in the ILP-500 manual hand press series.
| | |
| --- | --- |
| | ILP-500-AH-FS |
| Force capacity | 1/2 ton |
| Max stroke length | 6" |
| Throat depth | 1.75" |
| Base length | 5.54" |
| Base width | 2.88" |
| Height | 7.75" |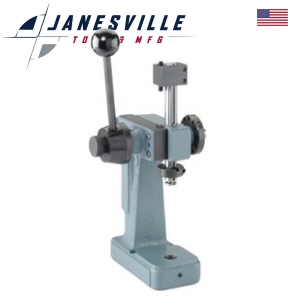 The ILP-500-AH-FS 1/2 ton adjustable handle full stroke lever arbor press assures constant accuracy and automatic alignment. Many companies have found them ideal for small-parts production and assembly by installing a line of them, each tooled for a specific operation.
Dimensions: 7 3/4"h x 5 1/2"d x 2 7/8"w.
Opening: 5"h x 2 1/16" ram to column.
Two 1/4" holes are provided in base for anchoring.
This press is ideal for precision assembly work and for shearing, shaping, and punching of light-gauge stock, metal, or plastic. The 5/8" diameter precision ground ram is keyed into the head and is in precise alignment with the hole in the base.
Check out all 1/2 ton arbor presses from Janesville Tool
Description
You can configure each model individually by selecting the base model plus any additional attachments.
The ILP-500 1/2 ton manual press is available as a base model or with 2 different variations beyond the -AH-FS model:
Built USA tough.
The ILP-500-AH-FS lever press may be easily customized for industrial use, light duty, cleanrooms, jewelrymaking, plastic materials, or PEM nuts. Our presses can be built for all sorts of different purposes:
Browse manual presses available for customized purchase online from Janesville Tool & Manufacturing.
Options
Any of the following options can be purchased with these models.