Compare Products
No products added. Please add products to compare.
ILP-500-AH-FS 1/2 Ton Adjustable Handle Full Stroke Manual Lever Press
Select Product Accessories

In Stock

Print

In Stock
Additional Product Information
One of several versions in the ILP-500 manual hand press series.
| | |
| --- | --- |
| | ILP-500-AH-FS |
| Force capacity | 1/2 ton |
| Max stroke length | 6" |
| Throat depth | 1.75" |
| Base length | 5.54" |
| Base width | 2.88" |
| Height | 7.75" |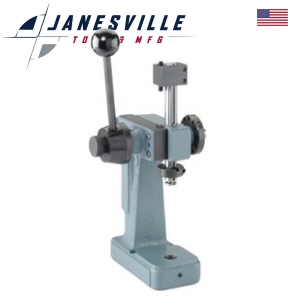 The ILP-500-AH-FS 1/2 ton adjustable handle full stroke lever arbor press assures constant accuracy and automatic alignment. Many companies have found them ideal for small-parts production and assembly by installing a line of them, each tooled for a specific operation.
Dimensions: 7 3/4"h x 5 1/2"d x 2 7/8"w.
Opening: 5"h x 2 1/16" ram to column.
Two 1/4" holes are provided in base for anchoring.
This press is ideal for precision assembly work and for shearing, shaping, and punching of light-gauge stock, metal, or plastic. The 5/8" diameter precision ground ram is keyed into the head and is in precise alignment with the hole in the base.
Description
You can configure each model individually by selecting the base model plus any additional attachments.
The ILP-500 1/2 ton manual press is available as a base model or with 2 different variations beyond the -AH-FS model:
Built USA tough.
The ILP-500-AH-FS lever press may be easily customized for industrial use, light duty, cleanrooms, jewelrymaking, plastic materials, or PEM nuts. Our presses can be built for all sorts of different purposes:
Browse manual presses available for customized purchase online from Janesville Tool & Manufacturing.
Options
Any of the following options can be purchased with these models.
• Adjustable Down Stop (Model ADS)
• Up-Stroke Limiter (Model USL)
• Die Sets
• Multiposition Fixture (Model 0631)
• Counter & Bracket (Model PC-500)
• Adjustable Handle
• Full Stroke Lock
• FS-500 Retrofit Service
Add-ons: