Compare Products
No products added. Please add products to compare.
DT-6000-FS 1/8 Ton Manual Deep Throat Full Stroke Lever Press
Select Product Accessories
People Also Search For

In Stock


Print


In Stock
Additional Product Information
The full stroke version of the DT-6000 hand press.
| | |
| --- | --- |
| | DT-6000-FS |
| Force capacity | 1/8 ton |
| Max stroke length | 12" |
| Throat depth | 11.9" |
| Base length | 19.5" |
| Base width | 9.88" |
| Height | 14.75" |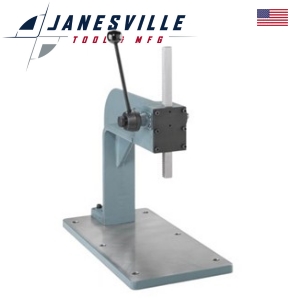 The DT-6000-FS 1/8 ton deep throat full stroke lever arbor press allows the user throat clearance of 11 5/8" and overall height of 10" under the ram. This precision assembly press consists of a ground steel base and separate ductile iron column. If needed the clearance under the column can be increased by adding a riser block between the steel base and column flange.
The press has a force rating of 200 lbs and contains a 3/4" square ground ram with an adjustable gib for continual accuracy. This press is ideal for circuit board assembly work.
Check out all 1/8th ton arbor presses from Janesville Tool
Options
Any of the following options can be purchased with these models.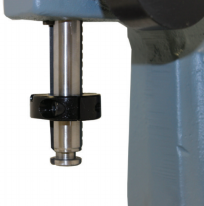 Up-Stroke Limiter
Like the Adjustable Down Stop, the Up-Stroke Limiter clamps onto the ram of the press at any position. It is designed to limit the travel of the up-stroke in order to increase press productivity.
ADD TO YOUR ORDER ABOVE UNDER "OPTIONAL ACCESSORIES" OR CONTACT US FOR MORE DETAILS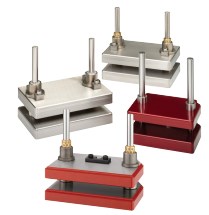 Die Sets
An economical lean way to cut the high costs of purchasing multiple presses to perform different applications. By tooling up several die sets, one press can be used to achieve multiple assemblies. A wide range of Die Sets are ready for 24 hour delivery after receipt of your order. Special machining and custom applications are available, along with several options for all your necessary die set needs. All JT&M Inc. die sets come standard with hardened pins and bushings for long wear.
A36 Steel Die Set with Ball Bushings
Clean Room Die Sets
All Die Sets can be arranged for assembly with your JT&M Inc. manual or pneumatic arbor press at a minimal cost.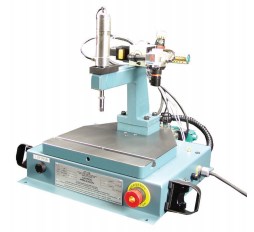 Value Added Services
Your design or our design, from concept to completion, let JT&M Inc. be your value added supplier.
Due to increasing demand from our customers, JT&M, Inc. is offering "Value Added Services" to better meet your needs for "One Stop Shopping" and "Turn Key Systems".
Whether it's a simple tapped hole in the end of a ram on one of our presses, or as complex as a complete die set or press assembly system, JT&M Inc. has equipment set up and ready for a quick turnaround utilizing the latest software, most common tooling, and fixturing available in manufacturing today.
Value added services