Compare Products
No products added. Please add products to compare.
DT-500-AH 1/4 Ton Manual Adjustable Handle Deep Throat Lever Press
Select Product Accessories
People Also Search For

In Stock


Print


In Stock
Additional Product Information
One of several versions in the DT-500 manual hand press series.
| | |
| --- | --- |
| | DT-500-AH |
| Force capacity | 1/4 ton |
| Max stroke length | 6" |
| Throat depth | 6.3" |
| Base length | 12" |
| Base width | 5" |
| Height | 7.82" |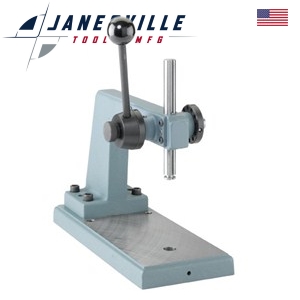 The DT-500-AH 1/4 ton deep throat lever arbor press with adjustable handle utilizes the same 5/8" diameter precision ram as the popular ILP-500, and allows the user throat clearance of 6 inches.
The model DT-500 precision assembly press consists of a ground cast iron base and separate column. The base consists of two (2) mounting holes for 1/4" socket cap screws. These holes can be tapped from the bottom for 5/16" screws on special request. The clearance under the column can be increased by adding a riser block between the ground base and column flange. The 5/8" diameter hole in the base is precisely aligned to the ram allowing for simplified tooling designs.
Check out all 1/4 ton arbor presses from Janesville Tool
Options
Any of the following options can be purchased with these models.