Compare Products
No products added. Please add products to compare.
DT-500-FS 1/4 Ton Manual Full Stroke Lever Press
Select Product Specifications

In Stock

Print

In Stock
Additional Product Information
One of many versions of the DT-500 manual press series.
| | |
| --- | --- |
| | DT-500-FS |
| Force capacity | 1/4 ton |
| Max stroke length | 6" |
| Throat depth | 6.3" |
| Base length | 12" |
| Base width | 5" |
| Height | 7.82" |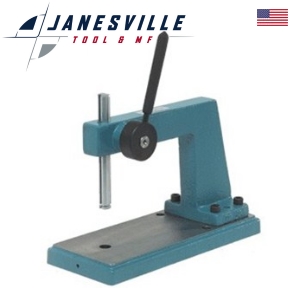 The DT-500 1/4 ton full stroke deep throat lever arbor press utilizes the same 5/8" diameter precision ram as the popular ILP-500, and allows the user throat clearance of 6 inches. The model DT-500 precision assembly press consists of a ground cast iron base and separate column.
The base consists of two (2) mounting holes for 1/4" socket cap screws. These holes can be tapped from the bottom for 5/16" screws on special request. The clearance under the column can be increased by adding a riser block between the ground base and column flange. The 5/8" diameter hole in the base is precisely aligned to the ram allowing for simplified tooling designs.
Description
You can configure each model individually by selecting the base model plus any additional attachments.
You may purchase the DT-500 1/4 ton base model or buy 2 other variations:
Browse all manual press machines for custom manufacturing available from Janesville Tool & Manufacturing.
Options
Any of the following options can be purchased with these models.
• Adjustable Down Stop (Model ADS)
• Up-Stroke Limiter (Model USL)
• Die Sets
• Counter & Bracket (Model PC-500)
• Riser Blocks
• FS-500 Retrofit Service
Add-ons: